Print Subscriber Activation
Cuisine at Home Magazine subscribers get FREE access to digital issues in their current subscription!
To access your digital editions online, please enter your Cuisine at Home Magazine account number from your mailing label or billing invoice.
Need help locating your account number? Click here.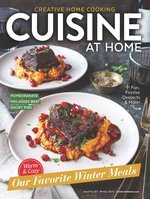 Not a subscriber yet?
Click here to become a subscriber now and get:
6 or 12 Issues Delivered to Your Door
Complimentary Access to all Your Issues ONLINE
Expanded 84-page Issues
Note: When you subscribe, you will receive a confirmation email message with instructions on how to finish setting up your account.
Questions? Call 1-800-311-3996 or Contact Us